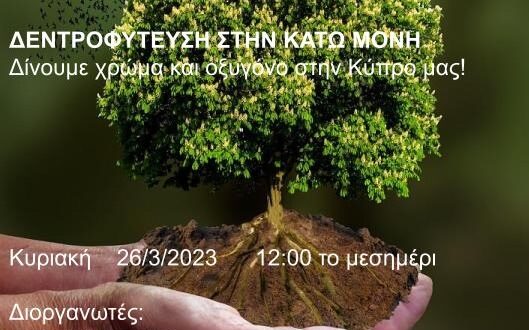 ΔΕΝΤΡΟΦΥΤΕΥΣΗ ΣΤΗΝ ΚΑΤΩ ΜΟΝΗ
Η Πράσινη Ασπίδα, το Κοινοτικό Συμβούλιο Κάτω Μονής, η μητρόπολη Ταμασού και Ορεινής. στα πλαίσια των δραστηριοτήτων του Youreforestcyprus διοργανώνουν μεγάλη Δεντροφύτευση 2000 δενδρυλλίων στην Κάτω Μονή την Κυριακή 26 Μαρτίου 2023. Παρουσία του Προέδρου της Δημοκρατίας και της Επιτρόπου Περιβάλλοντος . Συμμετέχουν ομάδα εθελοντών του Ερυθρού σταυρού και ο ποδηλατικός όμιλος Άγιος Μνάσων. Ξεκινάμε στις 12:00.
Με το τέλος της δεντροφύτευσης θα προσφερθούν σουβλάκια από τους διοργανωτές.
Όλοι μαζί για ένα πιο πράσινο μέλλον για τα παιδιά μας.
The Green Shield as part of the activities of Youreforestcyprus is organizing a large Tree Planting of 2000 saplings in Kato Moni on Sunday 26 March 2023 in collaboration with the Community Council of Kato Moni and the Metropolis of Tamasos and Orini. In the presence of the President of Cyprus and the Environment Commissioner .A group of Red Cross volunteers and the Agios Mnason cycling club are participating. We start at 12:00.
Αt the end of the event the organisers will offer souvlaki catering to all participants.
All together for a greener future for our children.