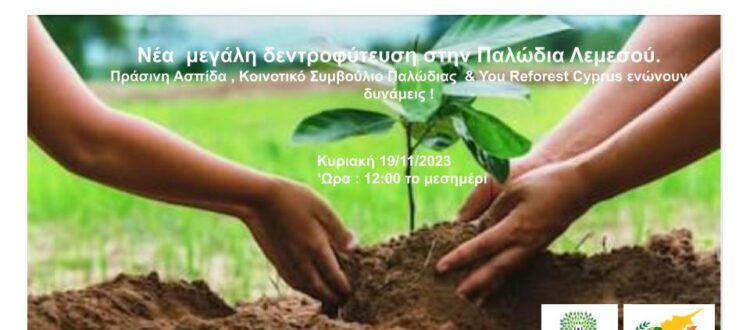 NEW BIG PLANTING IN PALODIA LIMASSOL
The Green Shield and the Community Council of Palodia are joining forces within the framework of the Youreforestcyprus program by organizing a large tree planting of 2000 saplings on Sunday 19/11/23.
We are pleased to invite you all because tree planting is the key to the future of our country.
Schools and organized bodies, fire brigades, scouts and football teams from all over Cyprus will participate in the tree planting.
Tree planting will start at 12:00.
Register here: https://forms.gle/ia2X39wQ8Vp6R9Bk8
Your Presence will be an honor to us
Tree planting program:
11:45 Meeting at the event site
12:00-12:20 Greetings from the organizers, awarding of plaques to the contractors
12:20-14:00 Tree planting in all places
14:00 -14:30 Snacks and juices for all volunteers